Located a few miles southeast of the Puerto Rican mainland, Vieques is a small Caribbean island full of charm, friendly people, and natural beauty. If you are looking for limitless shopping experiences and slickly packaged tourist attractions, you best look elsewhere. If, however, you appreciate gorgeous, uncrowded beaches, casual and fun restaurants with great, yet unpretentious, food, and a culture and people that are closely tied to the land, you've found your paradise. Because it is still largely undiscovered, Vieques only has at most a few hundred tourists at any given time.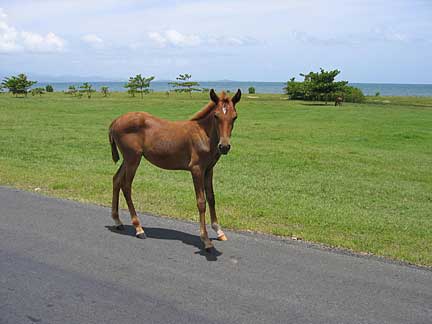 A colt walks on a road near Green Beach. Horses roam wild, yet cared for, over much of the island, and often teenagers can be seen riding them bareback on the country roads.
Beaches
Beaches in Vieques are among the cleanest and least crowded in the Caribbean. Public beaches include the following:
Sun Bay Beach
Arguably one of the most spectacular bays you will find in the Caribbean. Great swimming. Facilities.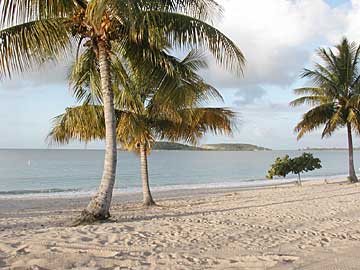 Sun Bay
Media Luna
Media Luna features a shallow bay where you can walk over 40 feet into the Bay with the water at your waist. Great for kids.
Navio
Navio is a small, secluded beach with a strong surf.

Playa Esperanza
This beach offers great swimming, and good snorkeling around the keys and to the west side of the beach. There are several restaurants lining the beach.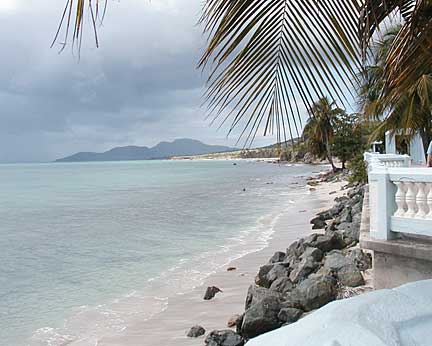 Playa Esperanza
Vieques Beaches on the old west-end navy base
Rompeolas (Mosquito Pier)
Over a mile-long jetty and pier. Diving spot for advanced divers. Great night fishing spot.
Punta Arenas
A favorite spot among boaters from Puerto Rico and a beautiful beach. Great swimming. Several picnic gazebos available.
Vieques Beaches on Fish & Wildlife Reserve
Bahia La Chiva (Blue Beach)
A long bay that holds several beaches. There is a key here easy to get to by kayak or snorkeling.
Playa Caracas or Bahía Corcho (also known as Red Beach)
Fish & Wildlife built several gazebos along the beach. This is a favorite spot among locals and tourists so get here early to get your gazebo for the day.
Playuela (García Beach)
Bioluminescent Bay
The Bioluminescent Bay at Puerto Mosquito is an astonishing, unique, natural wonder that is not to be missed. A nighttime excursion with one of the companies that offer tours will immerse you in this natural phenomenon in which the waters, stirred up by the boat wake or by the stirring of your arms, luminesce brightly, courtesy of trillions of micro-organisms that call the bay home. Although this phenomenon occurs at other sites in the world, nowhere is it nearly as bright as in one of the bioluminescent bays in Vieques, known as Caño Hondo or Puerto Mosquito.
The Bay has a narrow exit to the sea allowing for the organisms to concentrate in its shallow refuge. It is the incredible concentration of these organisms what makes Vieques so unique. See our Helpful Links page for links to companies that offer excursions to the bioluminescent Bay.
Sailing, Kayaking, and Diving
The reliable trade winds, crystal clear water, and tropical scenery make Vieques an ideal sailing locale. There are a number of local companies where you can rent or charter a sailboat.
Sea kayaking is an excellent way to explore the nooks and crannies of the Vieques coastline. Kayaks can be rented from Blue Caribe Kayaks.
Both snorkeling and diving are popular activities on Vieques. SCUBA charters, dive courses, and snorkel charters are offered by Nan-Sea Charters and Culebra Divers.
Mountain Biking
Tired of relaxing on the beach? A mountain bike can get you to some of the best scenery and most remote areas on the island. La Dulce Vida Mt. Bike & Adventure Company offers both tours and bike rentals.
Vieques National Wildlife Refuge
The Vieques National Wildlife Refuge contains several ecologically distinct habitats including; beaches, coastal lagoons, mangrove wetlands, and upland forested areas. The marine environment surrounding the refuge contains coral reefs and sea grass beds. The refuge and its surrounding waters are home to numerous plant and animal species, including the West Indian manatee, the Brown Pelican, and four species of sea turtles. The refuge also contains important resources of archeological and historic significance, and legacies of the Taíno culture and sugar cane era. For more information on the refuge, click here.
Restaurants
Each of the Cane Garden properties has a full, well-equiped kitchen. For those times you don't feel like cooking, however, the island has a nice selection of restaurants, from casual to gourmet. Among our favorites is "Bananas," a casual eatery right on the beach.